I have to say that I have never heard of the
SchoolhouseTeachers.com
until I was asked to review it as my first review the Schoolhouse Review Crew for 2014.
What is SchoolhouseTeachers.com? It is a website full of amazing educational resources and Christian curriculum, written by expert teachers, that are just perfect for home schooling. This members area is run by the TOS magazine: The Old Schoolhouse Magazine! Included on the site is daily printables, lap books, planners and much more and there has never been a better time to purchase a yearly subscription!!
At first look of the SchoolhouseTeachers.com site, the layout of the website is easy to look at and navigate your way around. It is easy to find the resources you are interested in by using the tabs at the top of the page. For example if you are interested in the Pre-k/Elementary resources, click on that tab and it will bring you to another page of the available topic areas. It really is so simple and easy to use.
There is so much to discover, I couldn't decide which tab to visit first – Pre-K/Elementary, Family, Dailies, Middle/High School, Samples, Teachers or Extras….I finally clicked on Dailies and am glad I did.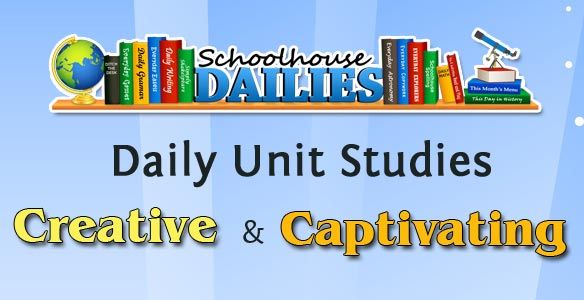 One of the units that stood out for us was the Everyday Explorers: Canada. My sister has just returned from Canada after spending six months travelling around. The boys were very interested to find out about the places she had been to. Day one was all about Alberta, the place my sister used as her base! All the information we needed was right there at our fingertips. The high quality of the lessons and the variety of subjects is just fantastic.
Our boys also loved the Everyday Games and the Daily Writing was perfect for the boys. They really need to improve their handwriting and with the help of the Daily Writing prompts they are writing (practicing) and having fun at the same time. Other units under the Dailies tab include daily grammar, daily math, schoolhouse spelling, elementary, middle and high school spelling, pre-k activities, and everyday astronomy.
Under the Extras Tab is the Schoolhouse Planners. (Planning is one of the areas I really need to improve in and these Planners are just perfect.) The Old Schoolhouse Magazine and the back issues as well as the monthly bonus e-books are some of the products that can found here.
Finally, after all my exploring, I clicked on the Pre-K/Elementary tab. What a lot of subjects and electives to choose from!! Art, history, geography, guitar, Spanish, French, home economics, reading, maths and preschool are just some of them. There is so much on this site to choose from, with new lessons being added all the time!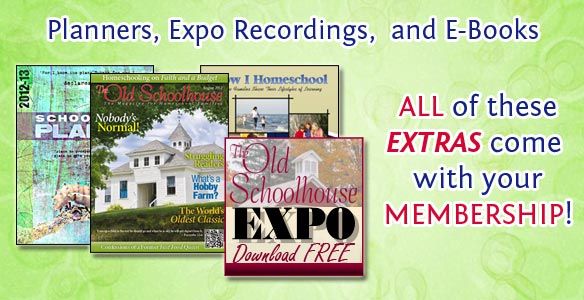 At the moment there is an amazing deal going where you can access all you need for $3 for the first month!! This is great to trial the site, but there are bigger savings to have when you sign up to the yearly membership. A yearly membership which automatically renews, gives you a 10% discount and also entitles you to the Gold Plan from Applecoresystem.com. This yearly membership is at a very affordable price of $139!! Only one fee for the whole family!!
If you purchase a yearly subscription this month (December 2013), you will receive a free a 12 month membership to pass onto a friend. What a great Christmas present!! You will also receive a free copy of the 2014 print issue (US only) and access to the Schoolhouse Library.
Econobusters.com at a special rate of $175. Econobusters.com is a sister site with loads of lesson plans written by expert teachers plus lots of fun and frugal tips by Molly Green.
This truly is a 'one stop shop' for all your homeschooling needs.
We have really enjoyed using this site in the past few weeks and are looking forward to using some of the materials in our homeschooling next year. Our boys can't wait to try out some new subjects that we haven't touched on yet! This really is great value. One family, one fee! A great site with loads of wonderful resources for all ages.
Let's go over the details again.
Yearly Subscription Details:
As part of a yearly subscription you will receive:
Access to the members only lesson materials 24/7 for 365 days
Daily, weekly and monthly lessons
New daily activities that cover a range of subjects
Access to the Schoolhouse Planners
Free e-books from the TOS E-Book Homeschool Library during you first 12 months of your membership – 12 e-books in total
Access to over 30 teachers
New products/subjects as they are added
The Old Schoolhouse Magazine
The Old Schoolhouse Magazine back issue in digital form
Tos webinar Expo-to-Go recorded sessions and mp3 audio files
Free membership to Applecore Gold Plan, an online recording system
In December 2013, you will also receive 12 months membership to pass onto a friend and a 2014 print issue (US only) when it is released and access to the Schoolhouse Library
Details At a Glance!!
Name: SchoolhouseTeachers.com
Website: SchoolhouseTeachers.com
Product: Yearly Subscription
Price: $139 for the entire year or $3 for the first month and then $12.95 per month
Ages: This site is for children of all ages and of course Mum!
Find out more!
Facebook
Twitter
Google+
Pinterest